Jim Clark's iconic Renauld Sunglasses.
We have teamed up with Renauld and Classic Team Lotus to introduce a limited-edition sunglass, the Jim Clark Sixty One".

Throughout the Sixties, Jim was an enthusiastic fan of Renauld and recently several new images have surfaced of him wearing the brand at various Grand Prix. The Jim Clark Trust collaborated with Renauld and Classic Team Lotus, in customising the Jim Clark edition of the Sixty-One and its unique leather case.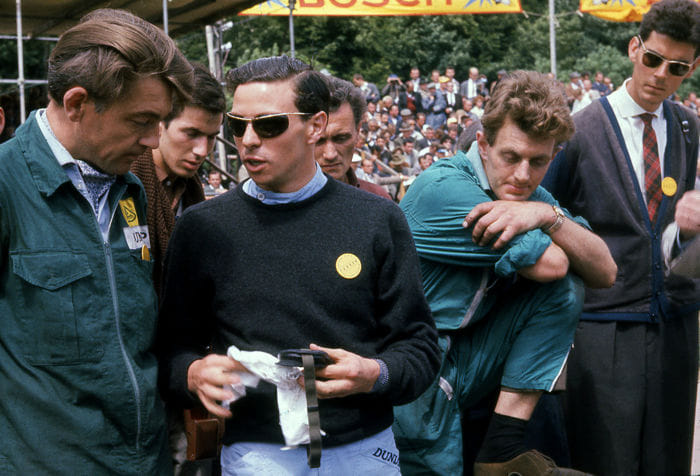 Jim Clark wearing the Renauld Sixty One, speaking to Jim Endruweit. David Lazenby behind. (Copyright Renauld)
In fact, two new sunglass models have been designed, based on the two Lotus 'Types' that Jim took to the checkered flag countless times. The Type 25 was the Lotus in which Jim Clark won the F1 World Championship in 1963 and 1965. The Type 38 was the Lotus that Jim famously drove to victory in the 1965 Indy 500.